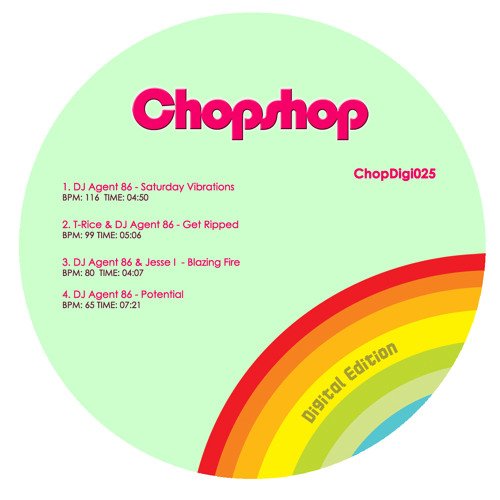 Diggin' what i have been hearing from Melbourne based Agent 86, dope party funk, soul, boogie and hip hop flavors.
Free wav download from Chopshop!!
soundcloud.com/the-chopshop-music/sets/dj-agent-86-celebrating
About Agent 86:
Since 1989.
Hip-hop. Funk. RnB. Dub. Disco. House. Techno. Electro. Electronica. Rock. Pop. Reggae. Blues. In-between and beyond.
DJ Battles. Radio shows. Clubs. Bars. Raves. Festivals. Music retail. Music distribution. Remixes. Production. Promotion. Label owner. Disciple. Ground breaker.
2007 Live Act of the Year (Melbourne)*
2008 DJ of the Year (Melbourne)*
2009 DJ/Producer of the Year (Melbourne)*
*Inpress Magazine.
Shared the stage with: Kraftwerk, James Brown, DJ Shadow, Moloko, Q-Bert, Mark Ronson, Chromeo, Greg Wilson, Krafty Kuts, Sasha, Inflagranti, Carl Craig, Zebra Katz, Le1f, Mike Q, Funkanomics, Basement Jaxx, Roots Manuva, 2 Bears, The Killers, Jeff Mills, Claude Von Stroke, Metro Area, Goldfrapp, Derrick May, Peaches, Miss Kitten, Funkagenda, Marcia Hines, Diplo, Busy P, Steve Aoki, Adam Freeland, Switch, Guy Sebastian, DJ Mehdi, New Young Pony Club, Mark Seymour, Glass Candy, Tom Craft, Audiojack, Gypsy & The Cat, MGMT, Tame Impala, Pendulum, Steve Agnello, Headman, Kissy Sellout, Russell Morris, Sam Sparro, Riot In Belgium, TLR (Bunker), Bangkok Impact, Laurent Garnier, DJ Yoda, Sebastian, P-Money, Kavinsky, Fatboy Slim, Sinden, Ursula 1000, Fat Freddy's Drop, Clutch, Infadels, Dynamo Productions, DJ Assault, DJ Godfather, Mark Rae, Katalyst, Matthias Tanzman, Cosmic Baby, Southern Outpost, ?uestlove, Kid Koala, Dukes Of Windsor, RJD2, Dee-Jay Punk-Roc, Greyboy, Fort Knox 5, Kraak 'n' Smaak, The Crystal Method, Koma and Bones, Booka Shade, DJ T, Z-Trip, Felix Da Housecat, Dirty South, DJ Noize, Mr Jigga, Theo Parrish, Mista Sinista, Resin Dogs, DJ Sneak, DJ Food, Carl Cox, Bonobo, Junior Sanchez, Brand New Heavies, Kid Loco, Mixmaster Mike, Aceyalone, Salmonella Dub, Wamdue Project, Nick Thayer, Meat Katie, Thomas Schumacher, Malente, Nubreed, Underground Resistance, Pepe Deluxe, Tiga, Damian Lazarus, Martin Solvieg, Joey Beltram, Brad Baloo (Nextmen), 2 Many DJ's, DJ Maseo, Hexstatic, Infusion, Isaac Tucker (Spektrum), Ali B, Lee Coombs, Prefuse 73, Blockhead, Laidback, Paul Van Dyke, Black Grass, Prince Quick Mix, Tipper, Soul II Soul, Gangstarr, Dexta, Liptrick, Speedy J, CJ Bolland, DJ 2120, A-Skillz, Bang Gang DJ's, Mama's Funk, Jungle Brothers, Luke Vibert, Vitalic, Hilltop Hoods, Koolism, Simian Mobile Disco, DJ Pogo, Eric Morillo, Filo and Peri, Scot Project, Marcel Woods, Wippenberg, Mark Sherry, Vandall, Brennan Heart, Bertie Blackman, The Cool Kids, Metronomy, Metric, Lady Sovereign, Evil Nine, Tom Novy, Technotronic, The Shapeshifters, Danny Howells, Sebastian Leger, Mark Knight, Randa and The Soul Kingdom, Tijuana Cartel, Cassette Kids, Art vs Science, Bluejuice and many others.
PLEASE NOTE: Mixes are now available from either from my website (djagent86.com) or here:www.divshare.com/download/17313909-6a7
Related articles