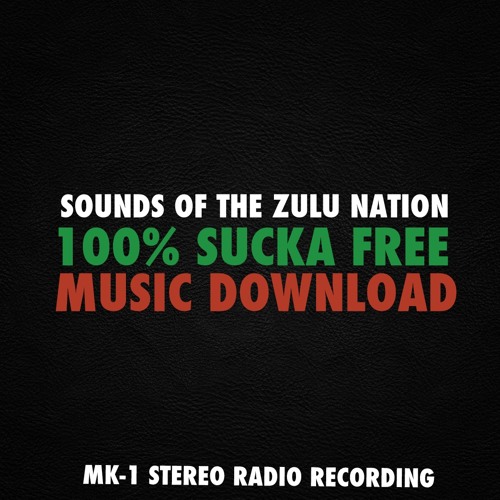 https://soundcloud.com/soulofsydney/soul-of-sydney-block-party-31
Soul of Sydney Block Party Radio#61: MK-1 PRESENTS SOUNDS OF THE ZULU NATION 100% SUCKA FREE
Soul Of Sydney –facebook.com/soulofsydney –twitter.com/soulofsydney – soulofsydney.org –soulofsydney@gmail.com
Soul of Sydney Block Party Radio: Hosted by Soul of Sydney DJ's & Friends.
Strictly BAD-ARSE FUNK & BEYOND!
Soul, Funk, Boogie, Hip Hop & Early House Vibes.
Streaming on demand 24/7 at @soulofsydney.
Find us on Facebookwww.facebook.com/soulofsydneyblockparty
———————————————-

Soul of Sydney Block Party Radio#61:
MK-1 PRESENTS SOUNDS OF THE ZULU NATION 100% SUCKA FREE
MK-1 could be best described as an Endangered Species of DJ from the old regime who has constantly been re-inventing himself, pushing boundaries and creating new soundscapes for his audiences listening pleasure. With countless DJ's in the Sydney scene MK-1 has firmly carved out his own lane, this man simply cannot be compared.
The following recording is of a set from the Sounds of the Zulu Nation hosted by MK-1 on Bondi Beach Radio. Most of the tracks played on this particular show are all highly sought after edits of well known anthems re-arranged straight from the MASTERS.
Below is a link to the SOUNDS OF THE ZULU NATION 100% SUCKA FREE RADIO DOWNLOAD hosted by MK-1.
——–
Sydneys only real source of new school, old school, true school, local, and worldwide Hip Hop and Dance for the masses!
With a continuing mission to elevate the culture of Hip Hop, Sounds of the Zulu Nation Radio provides a diverse array of quality and innovative music programming. It is a platform for Hip Hop as a cultural movement to nurture growth within our communities.
Born John Khilla in Sydney, MK-1 began DJing at the age of 15 with the aid of mentor and friend, New York's legendary DJ Steve Dee (founder of the X-men and inventor of the funk a.k.a beat juggling).
By the age of 18 MK-1 had developed his own distinct style of DJing, shunning the many cultural clichés of the Hip-Hop scene.
Over the years, MK-1 has been both a resident and guest DJ at many Sydney night spots such as Iguana Bar, Lotel, GAS, BJ's, Castles, Good Bar, Melt, World Bar and Black Birds Cafe in addition to numerous international tours and preforming at after parties for illustrious artists ranging from the Sugarhill Gang, The Black Eyed Peas to Duran Duran.
MK-1 is also a Journalist, social/political activist, school teacher, sound designer and Theology Student.
Together MK-1 and with world renowend Graffiti Artist SPICE head The Universal Zulu Nation 61 Sydney Chapter (Hip Hops oldest and strongest movement)
MK-1 is also the current Tour DJ for the international artist – Mirrah.
any enquirers contact MK-1 onmistakilla@hotmail.com
www.facebook.com/pages/Sounds-of-…9415&sk=info
Related articles