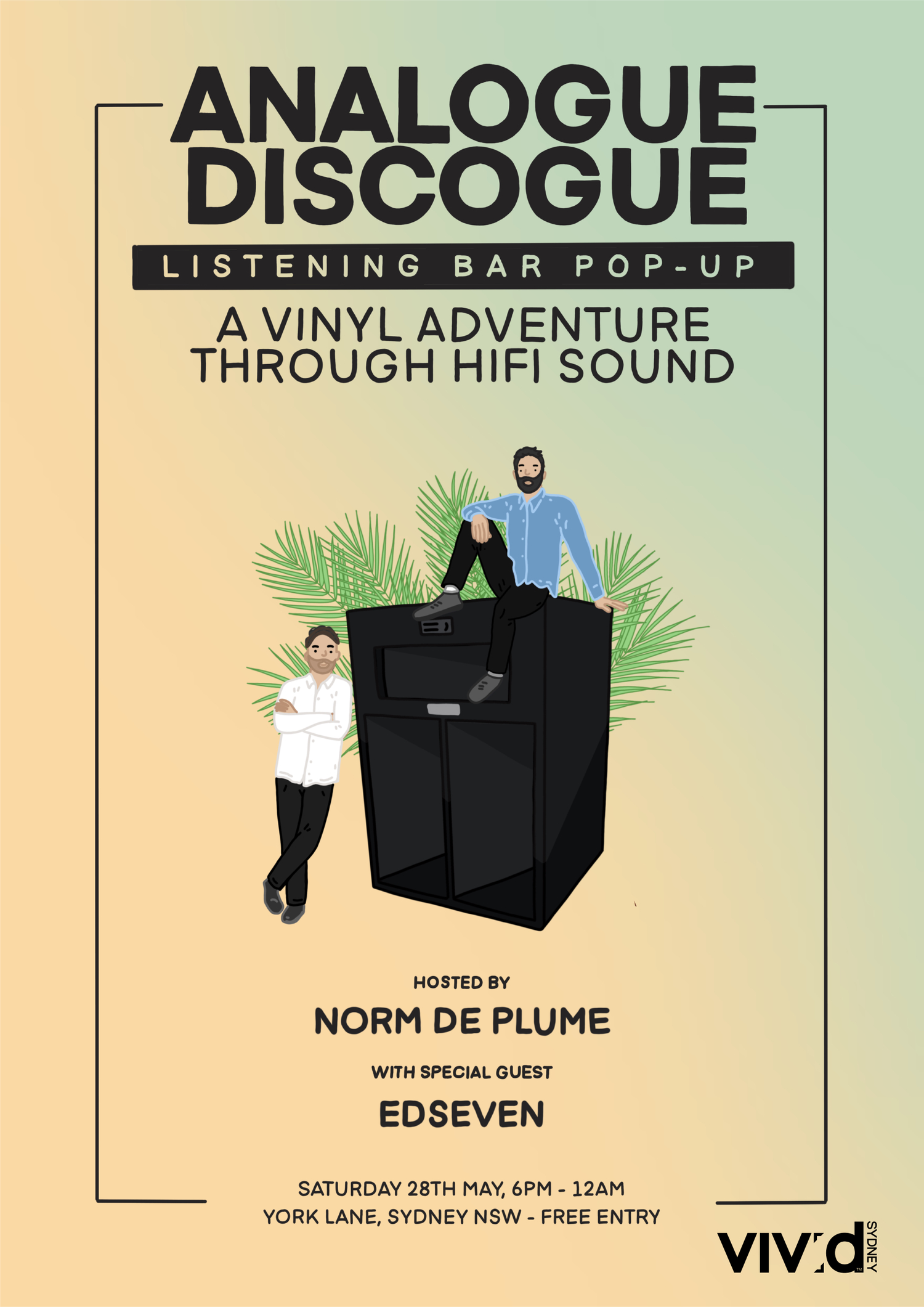 Ok so our good friend, EDSEVEN put us onto this. It is definitely one for musical purists. Norm De Plume literally bringing in his own sound system for this all vinyl experience he has been hosting around town. Strictly wax & dope selections from some of Sydney's finest DJ's.

Check out the VIVID special they are hosting on Sunday May 28 at York Lane, Sydney CBD.

As part of the Vivid Sydney 2022 music program we welcome you to the Analogue Discogue listening experience at York Lane! A small, pop-up hi-fi venue in the style of the slow listening & audiophile bars found in Tokyo & London. For lovers of music and hi-fi sound, and listeners who appreciate a wide range of genres. Ideal for those who strive for a slightly different bar experience – one with a cooled-down feel where music and sound are brought to the forefront. A place that allows the listener to escape the loud chatter and low-quality audio of most bars. A space to relax in and appreciate music through a high-grade sound system with good quality coffee, beer, cocktails and light bites. Carefully curated all-vinyl sessions to drink & relax to featuring special guest DJs: Edseven (Inner Tribe / Soul of Sydney), Mehdi El-Aquil (Condesa, Adelaide), Walter Majik (Waxflower, Melbourne) & Matt Boulton all pulling a wide range of music from their extensive collections. Intimate sessions for up to 30 people in the wonderfully cosy York Lane café bar – a European style café bar tucked behind Wynyard Station. Analogue Discogue is hi-fi dance party & listening event hosted by London DJ/producer Norm De Plume (Delusions Of Grandeur, UK) which uses large Klipsch heritage speakers. The clarity & warmth of the sound provides an immersive experience for listeners and dancers alike. 6pm-9pm: NORM DE PLUME (Delusions Of Grandeur, UK) 9pm-12am : EDSEVEN (Inner Tribe / Turntables on the Hudson / Soul of Sydney) *Please note* Entry is free but space is limited, so entry is on a 1st come, 1st served basis. Please arrive early or be prepared to have to wait for a table/seat.