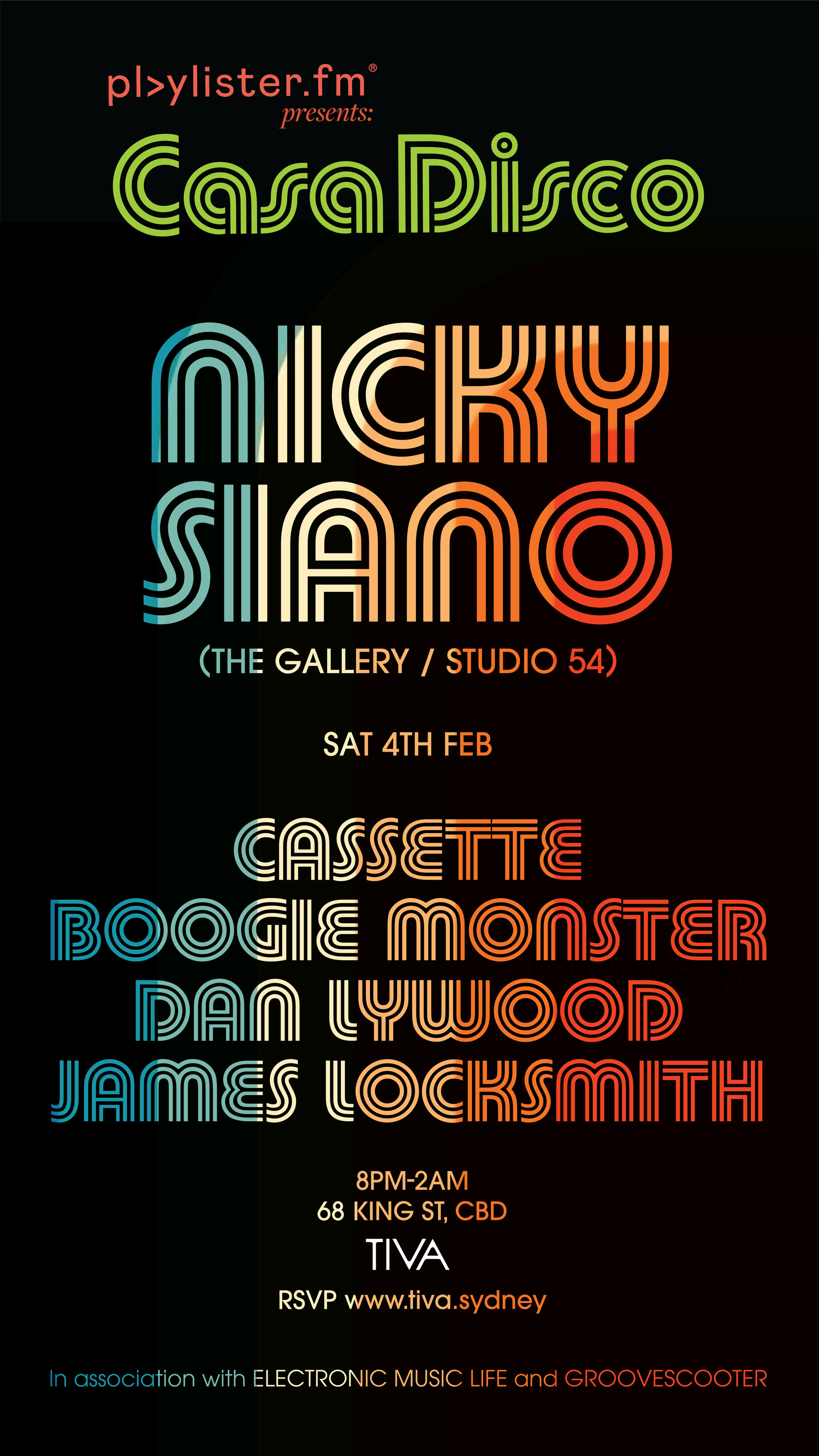 Sydney is getter a heavy dose of DISCO legends this month, we just heard that our good friends at GROOVE SCOOTER & ELECTRONIC MUSIC LIFE are hosting pioneering NYC DJ NICKY SIANO at a free gig this Saturday night at TIVA (68 King St Sydney CBD) with local support from BOOGIE MONSTER, JAMES LOCKSMITH, PARIS GROOVE SCOOTER & more.


We still have some very fond memories of seeing him at a SHE PARTY many years ago playing a very special NYE Disco set to bring in the new year over 10 years ago.

We will be down there enjoying the music, taking DJ notes & having a boogie, we highly recommend this night out for anyone who is into proper disco heat that hardly gets played here. Nicky Siano is one our main DJ influences & he is one of the reasons we are into disco.

Check out their page for info HERE | https://www.groovescooter.com/nicky-siano-sydney-feb-4/
/
ABOUT:
As the founder of Manhattan's legendary club The Gallery and an original resident DJ of the notorious Studio 54 (where he was playing when Bianca Jagger entered on a white horse), Nicky Siano is a bonafide queer disco legend. Together with David Mancuso's Loft and Paradise Garage, Nicky Siano's Gallery was one of the three most influential underground disco clubs in New York during the '70s. The Gallery is also where Larry Levan and Frankie Knuckles learnt their craft watching and listening to Nicky Siano's every move in the DJ booth. Sometimes Siano would step outside the DJ booth to put on drag-not-drag performances, channelling everyone from Diana Ross to the Statue Of Liberty. The Gallery was also an important launchpad for future stars, including Grace Jones who made her debut at the club. After The Gallery closed in 1977, Siano turned his hand to producing music, most famously forming Dinosaur – along with a young Arthur Russell – and releasing the groundbreaking Kiss Me Again on Sire Records featuring David Byrne on guitar shortly before Byrne launched the group that would make him a household name, Talking Heads. Later Siano would spend 15 years working in the queer community helping people with AIDS, before returning to his music career where he continued to produce music, DJ around the globe and direct the documentary Nicky Siano: Love Is The Message: A Night At The Gallery which Groovescooter premiered in Sydney back in 2012. Saturday Feb 4th is a rare chance for Sydneysiders to experience the disco / house pioneer for one night only.