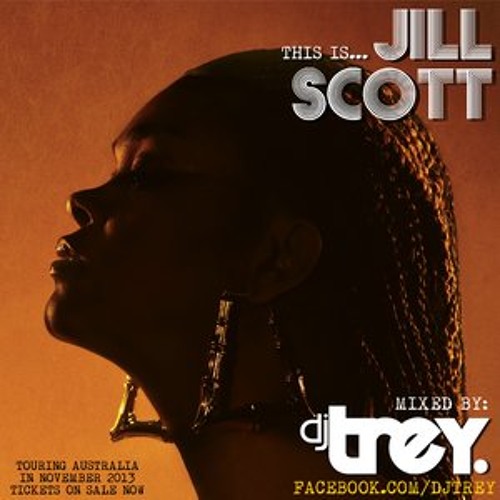 Soul of Sydney Block Party Radio #108: This Is… Jill Scott Mixed By Dj Trey (Jill Scott Australian Tour Tribute Mix)
Time: 1 Hours 25 Mins.
Style: Jill Scott Neo Soul, Jazz, Hip Hop
DJ Trey
Tracklist:
-Gettin' In The Way By Jill Scott
-The way By Jill Scott
-A Long Walk By Jill Scott
-Can't Explain (42nd Street Happenstance) By Jill Scott
-I'm prettier By Jill Scott
-You Got Me By The Roots Ft. Eve & Jill Scott
–Good Morning Heartache By Chris Botti Ft. Jill Scott
-Love rain (coffee shop mix) By Jill Scott ft. Mos Def
-One Time By Eric Roberson ft Jill Scott
-Slide By Jeff bradshaw ft jill scott
-Its Love By Jill Scott
-8 Minutes Till Sunrise By Common ft Jill Scott
-Whatever By Jill Scott
-Breathe By Jill Scott
-Brotha By Jill Scott
-Family Reunion By Jill Scott
-Blessed By Jill Scott
-High Post Brotha By Jill Scott ft. Common
-The Rain By Will Smith
-Whenever You're Around (Bryan Cogshell Remix) By Jill Scott
-I'm not afraid By Jill Scott
-Talk To Me By Jill Scott
-Wondering Why, You Don't Talk To Me. By Jill Scott
-Exclusively By Jill Scott
-All Cried Out Redux By Jill Scott ft Doug E. Fresh
-Hate on Me By Jill Scott
-Le BOOM Vent Suite By Jill Scott
-Funky For You By Common Ft. Jill Scott & Bilal
-Shame By Jill Scott ft. Eve & The A Group
-Lovely Day By Jill Scott
-Golden By Jill Scott
-So in Love By Jill Scott ft Anthony Hamilton
-Street Life By Mike Phillips Ft. Jill Scott
-Gimmie By Jill Scott
-Calls By Robert Glasper Experiment ft Jill Scott
About:
This is a very sweet mixtape tribute to the mighty Jill Scott by DJ TREY, as a little warm up for the upcoming Australian tour in November 2013.
Catch Jill Scott + DJ TREY @ SYDNEY
Saturday 23rd November @ The Enmore Theatre
Catch a DJ Trey set or two for the songs that people love but have forgotten over the course of time. Since starting at the age of 14 Ashley Heuvel aka DJ Trey has always dug the roots of R&B and Hip-Hop, using his Uncle's vinyl records! Respecting where music has come from and how it got to where it is now.
Diversely playing in styles of R&B, Hip-Hop, Soul and Funk (while dabbling in Disco, Jazz, Reggae and House). With a style that gives the crowd some of what they love, some of what they used to love and some of what they should love. Entertaining and enlightening. Engaging in the better of the unknown, he likes to focus more on what he believes, people should be listening too- as opposed to what they 'think' they want to listen too.
Email: info@djtrey.net
Website: www.djtrey.net
Facebook: www.facebook.com/djtrey
Twitter: www.twitter.com/djtrey_ash
Instagram: www.instagram/djtrey_ash
Mixcloud: www.mixcloud.com/djtrey/
——————-
★ NEXT PARTY ★ Soul of Sydney 2nd B'day Block Party feat. DJ KON (Kon & Amir, BBE Records, Wax Poetics) – Sun Nov 17
Facebook Event –> www.facebook.com/events/589039221156302/
www.soulofsydney.org/blockparty
SOUL OF SYDNEY 2ND B'DAY BLOCK PARTY feat. Secret NYC Crate Digger (Sun Nov 17)
Soul of Sydney Block Party is officially turning two & we want to celebrate with our extended soul family!
Facebook Event –>
www.facebook.com/events/589039221156302/
On Sunday Nov 17 we will be hosting a special birthday jam featuring a secret international guest out of New York, a legendary crate digger with miles of DJ, Production cred who will is respected around the globe for his music knowledge, wax collection & the ability to find the rarest of Funk, Soul & disco goodness.
Sunday Nov 17 @ Secret Funk Oasis
Afternoon Soul. Funk, Disco, Boogie, Hip Hop, Afro-Beat flavors.
Music by: Soul of Sydney DJ's & Friends + SECRET CRATE DIGGER from Brooklyn NYC.
This will be a very limited number jam, be sure to get in early for a spots on the dancefloor for the celebration.
RSVP, blast us at soulofsydney@gmail.com for party info, tickets etc.
or Sign up here for secret party info and early bird spots on the dancefloor.
www.dashtickets.com.au/event/7zqfv1c86
Email us at soulofsydney@gmail.com for info
call/sms 040 5494 138 if any questions
www.soulofsydney.org/blockparty for info and mixtapes
——————————–
SOUL OF SYDNEY BLOCK PARTY RADIO!
BAD-ARSE BOOGIE, SOUL, DISCO, HIP HOP & AFRO-BEAT & EARLY HOUSE VIBES FOR LOVERS OF FUNK IN ALL ITS FORMS.
Hosted by Soul of Sydney DJ's & Friends from our extended 'Soul-Family'
Streaming on demand 24/7 at @soulofsydney.
Find us on Facebook www.facebook.com/soulofsydneyblockparty
Follow us for Mix-tapes, Secret Block Party, Park Jams & Warehouse Party info
– facebook.com/soulofsydneyblockparty
– facebook.com/soulofsydney
– soulofsydney.org
– soulofsydney.org/blockparty
– soulofsydney@gmail.com
– twitter.com/soulofsydney
– @soulofsydney
– instagram/soulofsydney
Email us soulofsydney@gmail.com for tracklisting, download links or to have your mixes featured.
For Bookings for any DJ's you hear in these mixes or at our events just get in touch;
Email- soulofsydney@gmail.com.
Mobile- 0405 494 138
FB – facebook.com/soulofsydney
Related articles