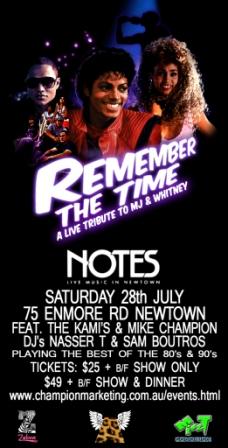 A TRIBUTE TO TWO MUSICAL LEGENDS WHITNEY HOUSTON and MICHAEL JACKSON
PURCHASE YOUR TICKETS HERE:
──► http://championmarketing.eventix.com.au/2/display_show_details.asp?uid=5598578&guid=9965726d9798aa&acl=1&url=%2F2%2Fdisplay_show_details.asp&eventid=4912 ◄──
Michael Jackson who could only be described as the greatest Entertainer to ever walk this planet, provided the soundtrack to many of our lives.
Whitney Houston's voice and music continually touched our hearts and souls.
For the first time in Sydney in honour of their memory and music we bring you REMEMBER THE TIME a massive live tribute to two musical legends.
Headed by The Kamis a talented musical family awarded an ACE award for BEST COVER BAND 2012 and featuring Sydneys Young Boy, Old Soul, Mike Champion, this tribute is set to be an amazing show.
http://www.thekamis.com/
https://www.facebook.com/pages/MIKE-CHAMPION-YOUNG-BOY-OLD-SOUL/138677326153558
You will hear all the hits including: "Remember The Time", "How Will I Know", "Thriller", "I Wanna Dance with Somebody", Billie Jean, "My Love is Your Love", "Rock With You", "So Emotional" & many more.
Be prepared to dance!
On the decks to keep you grooving in between sets is Sydney's number one 80′s & 90′S DJ'S:
✖ NASSER T
✖ SAM BOUTROS
NOTES LIVE is one of Sydney's PREMIER LIVE MUSIC venues.
Don't miss your chance to pay your own tribute to MJ and WHITNEY.
Their memories live on through their music.
★LIMITED PRE-SOLD TICKETS AVAILABLE★
✔ Dinner (Main Meal) and Show tickets – $49 + B.F
✔ Show Only – $25 + B.F
PURCHASE YOUR TICKETS HERE:
──► http://championmarketing.eventix.com.au/2/display_show_details.asp?uid=5598578&guid=9965726d9798aa&acl=1&url=%2F2%2Fdisplay_show_details.asp&eventid=4912 ◄──
REMEMBER THE TIME! REMEMBER THE MUSIC!
BIRTHDAY OR GROUP BOOKINGS – EMAIL: info.au